Sometimes quick and easy can be the best. With ingredients at the ready, it's not hard to whip up this authentic Thai Panang Curry Recipe in the 15 minutes it takes to cook your rice to serve it with for a fantastic weeknight dinner.
Video How to Make the Best Thai Chicken Panang Curry at Home
Thai Panang Chicken Curry - Super Easy & Quick Delicious Thai Curry
If the video isn't loading, you can watch it by clicking this
We really like this dish – almost as much as our Duck Red Curry which just pips it with its fruity flavors for when you feel like a little tang.
We're going to show you how to cook this delicious Thai chicken curry and how to change Red Curry Paste quickly and easily into Panang Curry paste too. Let's get to it!
If you like red curry then you have absolutely GOT to try our awesome steamed salmon curry made with coconut cream – it's awesome!
Links Disclosure: Some links on this page go to affiliate partners where, without cost to you, we may receive a commission if you make a purchase.
Ingredients for Making Thai Panang Gai Chicken Curry
Red Curry Paste
Coriander Seeds
Cumin Seeds
Peanuts
Spur Chili
Panang Curry Paste(First Alternative)
Kaffir Lime Leaves
Fish Sauce
Palm Sugar
Coconut Cream
Coconut Milk
Chicken Breasts
We rarely order this when we are out because it is so easy to make at home, much cheaper and invariably more delicious. Order the food that's difficult to make when you're out and cook our Quick and Easy Thai Recipes at home!
Why You Want to Make Thai Chicken Panang Curry at Home
So Quick and Easy to Make
Easy to Convert for Specific Dietary Requirements
Easy to Adjust Spiciness
Adaptable Comfort Foot with Creamy Consistency
Awesome Flavor
A Little Background to Panang Gai as You Would Order it in Thailand
Panang Gai curry is one of the choices you will see in the majority of Thai restaurants that are not focussed on a specific style of cooking. That is because it is a classic curry eaten in Thailand.
And it is incredibly easy to make – just be sure to get your sweet-smelling Jasmine Rice cooking because that is the best rice to serve with!
Everyone I have made this delicious recipe for has loved it and I hope you will too.
Panang Gai curry originates from the area of Penang in Malaysia and has been adapted and adopted into Thai cooking. Like so many Thai dishes, it is one that stems from foreign influence.
Penang Curry (the Malaysian version) is a variation of Red Curry but the Thai adaptations of Red Curry Paste and its Panang Curry Paste derivative tastes significantly different from the Malaysian versions.
There are also several other recipes that use different variations of red curry paste that you will see in other recipes we cook.
Cooking is something like language, in that tastes change over time just as language changes.
Migrants and traders bring their food recipes with them and these are taken up by locals who adapt them to their own taste – somewhat akin to the English Indian Curries and Chinese Food.
Eventually, the new tasting cuisine takes on its own identity and becomes identified and incorporated into what is known as – in this case – Thai Cuisine.
So this Thai chicken curry is no longer a Malaysian dish but rather a Thai dish in its own right and quite a bit spicier as well.
Making Panang Curry Paste from Red Curry Paste
If you live in Thailand, you will find many curry pastes on sale in the local markets, including the variants of homemade red curry paste all mixed and ready for use. So you'll have no problem finding the Penang Curry Paste that's ready to use.
If you live elsewhere you may need to go online to find Penang Curry Paste or maybe find it at your local Asian market or store.
If you can't find Panang Curry paste then you can pick up Red Curry Paste instead and turn it into Panang Curry paste quite easily. Read on to learn how to change Red Curry paste into Panang Curry paste and then into Penang Gai or Chicken Penang Curry.
Red curry paste is used as a basic paste to make several other Thai cooking pastes such as Kua Kling and Prik King Curry Paste. So if you'd rather just stock Thai Red Curry Paste and adapt you can cut down on your ingredient stocks by doing so.
Step 0 Converting Red Curry Paste to Panang Curry Paste
Take the coriander seeds, cumin seeds and peanuts and roast in a clean skillet or frying pan. You do not need to add oil.
Roast until the seeds start to turn color and stir often.
You'll set aside some of the peanuts for garnishing but the rest of the seeds and peanuts need to be ground.
Either use a mortar and pestle or an electric grinder – I guess you could also use a manual grinder as well. Grind to a slightly coarse consistency.
Using a mortar and pestle will give you more control over the coarseness of the grind and so that is my preferred method.
Mix the ground spices into the Red Curry Paste in the quantities set out in the recipe below.
How to Make this Easy Panang Chicken Recipe Step By Step
Step 1 Preparing The Panang Gai Curry Sauce
Take a frying pan that will be big enough to hold all the ingredients by the end of the process.
Heat the coconut milk in the pan and as it begins to heat add the brown sugar and stir to dissolve.
Once the sugar has dissolved add in the Penang paste and stir to thoroughly dissolve. Add in half the fish sauce and stir to incorporate. Taste and then add more fish sauce to get to the taste you want.
It is hard to give specific quantities for the seasoning as it depends so much on how you like the taste. So just add incrementally and you'll be happy.
Mix all together and stir in the torn kaffir Lime leaves and about three-quarters of the sliced chili spur.
Step 2 Cooking the Chicken
Slice my chicken into thumb-sized slices prior to cooking. This lets the chicken cook through quickly and stays tender.
You can cube the chicken but I do not advise it because it takes longer to cook through and in my experience ends up less tender.
Add the chicken into the Penang Curry Sauce in the pan and cook at a simmer for about 8 minutes.
Take most of the Kaffir Lime Leaf and tear the leaf off the stems and into half or quarters if they are larger leaves. Add this in when you add the chicken.
The remaining Kaffir Lime Leaf should be julienned for garnish when served.
While the curry is cooking it is a good idea to wash and cut up your spur chili into diagonal slices for garnishing too. That will save a little time!
Step 3 Serving the Thai Chicken Curry
When the chicken is cooked, tip the chicken and curry into a serving bowl or into individual bowls if you prefer.
Drizzle a little coconut milk into the center and place in a few slices of your sliced red chili spur as well as a pinch of julienned Kaffir Lime.
Serve with freshly cooked Jasmine Rice. Enjoy!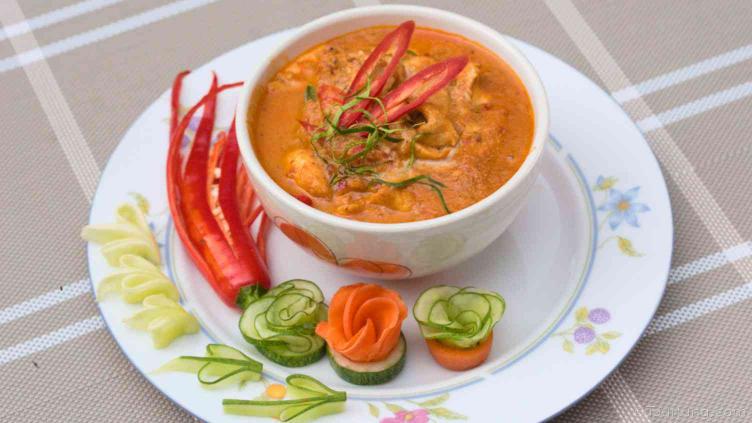 A Word on Bought Curry Pastes vs Home Made Curry Pastes
You deserve a heads up on the Great Curry Paste Problem.
You may not realize that there is a huge difference in the spiciness of the various brands of curry paste available. If you are vegan or have an allergy such as nuts or shellfish then beware.
Please understand that Branded Thai curry paste imported from Thailand will be several times spicier than most of the paste made in the West.
If you make your own paste, then you have control over the level of spice by adjusting the amount of chili added. Note also that different Chili varieties have wildly different levels of spiciness too.
Assuming you are not making your own it is a great idea to stick with one brand that you can become familiar with so far as taste and quantities for your preferred spice level is concerned.
You'll find my preferred brands linked in the recipe notes below.
Best Thai Chicken Panang Curry Recipe
Best Thai Chicken Penang Curry Recipe
The Video showing this recipe being cooked is near the top of the page – A convenient Jump Link to the video is below the description under here.
This staple but simple Thai recipe is a great one to have in your collection.
It is a super easy and very tasty meal you can have on the table in well under half an hour and looks as good as it tastes.
NOTE: Any In-recipe images can be toggled on and off with the camera icons next to the Instructions header.
Instructions 
Making Panang Paste
Roast the coriander seeds, cumin seeds in a medium-high heat dry pan. No oil!

Pound coriander & cumin seed while it is hot then add peanuts and pound coarsely. Add red curry paste and mix it together well. Set aside
Making Panang Curry
Heat the coconut cream until the fat starts to separate and then add the Panang paste. Stir together on medium heat until the mixture begins to give off a nice aroma.

Add in the palm sugar and stir to dissolve and then add in half the fish sauce and stir to mix in. Taste and add in more fish sauce until the desired taste is achieved.

Add the chicken slices and continue stir for about 8 minutes until the chicken is just cooked. The time needed will depend on cooking heat.

When chicken nearly cooked add half of the sliced chili spur and torn kaffir lime leaves, cooking for a further few mins until the chicken cooked through.

Serve with both the remaining a few slices of chili spur and julienned kaffir lime leaves as a garnish, and freshly cooked jasmine rice.
Notes
I like my curries spicy so please take care with the quantity of paste. If using a Thai paste try starting with half quantity and adjust to taste. 
Fish sauce is VERY salty. So again take care with quantities, starting with half the recipe amount and adjust in several tasting stages. Fish sauces also vary in level of saltiness between brands.
This dish can do for Panang Beef, Panang Pork as well as Panang Chicken Curries
Beware, do not over cook the chicken otherwise it will be tough 
For Panang Beef use Tenderloin do not overcook it. If you use another cut like beef shank it will likely be tough. In this case precook the beef by sautéing with coconut milk first to make it tender.
Vegans & Vegetarians can use Tofu or other protein substitutes but still need to check the Curry Paste. Most Panang pastes contain shrimp paste as an ingredient.
This recipe contains nuts – people with nut allergies must omit the nuts altogether and use Red Curry Paste (nut free) and add Cumin and Corriander only.
Links in this recipe are affiliate links and we may receive a commission through their use but at no cost to you. 
Nutrition
Calories:
323
kcal
Carbohydrates:
8
g
Protein:
31
g
Fat:
19
g
Saturated Fat:
12
g
Cholesterol:
82
mg
Sodium:
872
mg
Potassium:
716
mg
Fiber:
2
g
Sugar:
4
g
Vitamin A:
2213
IU
Vitamin C:
19
mg
Calcium:
55
mg
Iron:
4
mg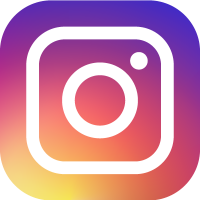 Planning on Making this Recipe?
It would be great if you could take a picture of your finished creation and share it out on Instagram. Tag me with #TASTYTHAIEATS – I love to see your ideas!
I really hope you enjoy this dish and if you cook it I would love to hear your comments below so please come back and let me know how it turned out for you.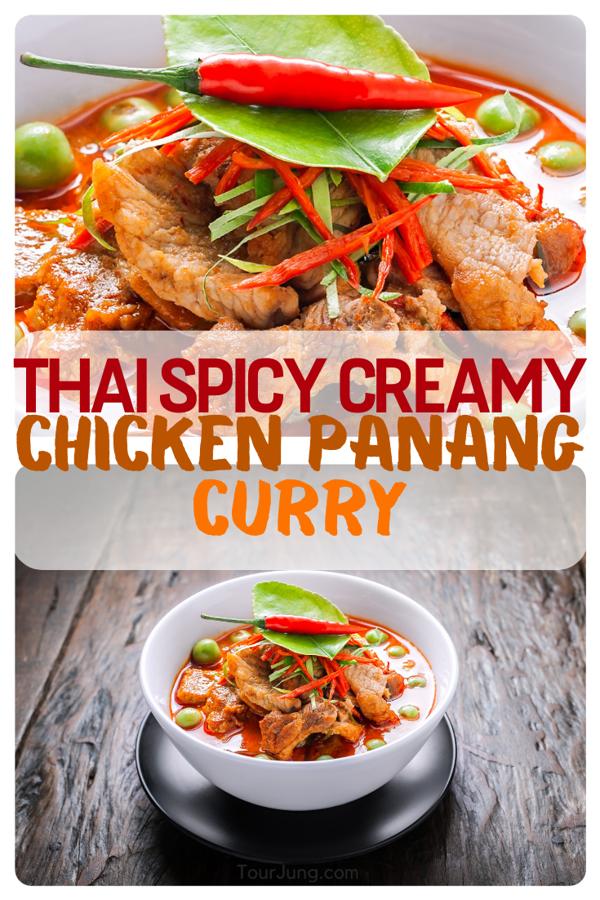 Other Recipes You Might Like to Look At:
I am a Thai mum and love cooking for my children. Over the years, I have taken my family recipes as well as ones borrowed from friends and adapted them to make them even tastier. I publish my authentic Thai Food Recipes here for all to enjoy around the world. When I get a chance to travel I publish information to help others visiting Thailand.